Web browsers is an important software which is required to access webpages from your computer. 
Well most of the
windows 8 browsers
(like Chrome, Firefox,opera,safari) share the same features. So our own preferences is the key factor in selecting the perfect browser. In this article we have compiled a list of best browsers for windows which are sorted in terms of speed, user experience and features.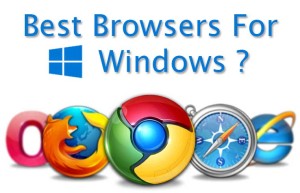 5 Best Browsers For Windows
Windows 8 and windows 10 both comes with internet explorer and edge as their default web browser. But the default browser doesn't fulfill our expectations. So here are the list of the best web browsers of 2015.
There is no doubt that many people uses chrome browser and it is considered as the best browser for windows 8/10. It is know for its simplicity and loading webpages amazingly faster. Apart from this it comes with chrome store where you can find some great extensions and apps which you can use in chrome to enhance your browsing experience. The only drawback we could face is chrome uses lots of RAM, but thanks to its latest update which have finally made chrome light weight.
Before chrome, Firefox was every one's first choice. Both of them almost share similar features. In chrome there are extensions and in Firefox it's addons, quite similar huh ? If we compare both Firefox and chrome then Firefox is good at browsing speed and customization where as chrome is good in user experiance and its simplicity. If your computer is not that much powerful then Firefox lite should be a right choice and a good alternative of Google chrome.
Are you sick of pop up ads everywhere ? Then this browser is for you. Maxthon comes up adblock which automatically blocks annoying ads. If for some reasons you hate chrome or Firefox then Maxthon is a great alternative for both of these browsers. The best thing about Maxthon browser is it automatically blocks spywares and adwares.
If you are a social media geek then torch browser is for you. It has built in bit torrent client and video downloader. It can easily grab YouTube videos and easily download  them using it's in-built downloader. While it has some unnecessary features, but hopefully we could remove them. It is a chromium based browser which is a plus point as it has chrome's speed, security and reliability. Torch browser adds some extra features which makes this browser more unique and appealing.
Opera is simple and lite web browser. If you just want to surf webpages, watch videos and perform some basic internet tasks then this should be your choice. No need to mess with extensions or addons just enjoy a simple browsing experience. Opera introduces turbo mode using which you can browse webpage faster than ever before. It is a very secure browser and highly recommend for basic internet user's.
Best Light Weight Web Browser For Windows
Torch browser
FireFox Lite
Opera
Maxthon Cloud Browser
Chrome
Best Web Browser in Terms Of Speed
FireFox
Chrome
Opera
Torch browser
Maxthon Cloud Browser
Hope you like'd the list of best browsers for windows 8/10. So which web browser do you love to you use ?